Refrigeration –SJU Smart Care Performance Check Program
Pro-active maintenance helps keep equipment running at optimum efficiency and limits the number of breakdowns at a location. Specific challenges arise for all equipment types that require extra attention. Refrigerators and coolers can challenge operators in several different ways
Customer Operating Challenges:
Clogged or blocked condensers cause increased energy consumption and trouble in maintaining temperature.

Debris caught in the condenser or evaporator fan causes serious damage to the unit.

Poor gasket sealing can result in a loss of cooling, increasing energy consumption and food safety risks.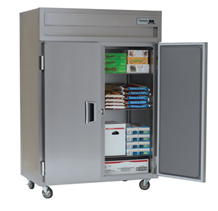 The SJU Solution:
SJU Smart Care Performance Check Program
Clean and check all condenser and evaporator coils.

Check door gaskets and all door hinges for proper seal and operating.

Check temperature of compressor discharge line to ensure operating temperature is within specification.

Check amperage and voltage to name plate specifications.
And More
On-site kitchen staff training on regular cleaning procedures.

Same Day Service for emergency repairs.